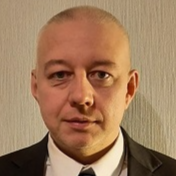 Might be available
(Päivitetty 2021-03-24)
Senior Software Engineer
Äidinkieli Finnish, Sujuva English, Aloittelija Svenska,
7-vuotiaana aloin koodata Vic-20:lla, ammattilaisena yli 20 vuotta
Paljon kokemusta haastavista, bisneskriittisistä, isoista projekteista
Erityisosaaminen C/C++ ja Visual Basic n. 25 vuotta
Yhteenveto
I started with a Vic-20 and Basic when I was seven in 1982. Since then I have been a software developer all my life. My professional career has now lasted about 25 years. In my career I have used mostly C++ as the language and studied other technologies on my free time. I have done software mostly for desktop applications but also for embedded and mobile systems. Windows is the operating system I'm most familiar with.
In the future I would like to concentrate more on web development and cloud platforms, and programming languages such as Python and React.js.
Työkokemus
Senior Software Engineer
Cisco Systems
2008-11 - 2021-01
– Designing, implementing and testing cross-platform software for various computer platforms using mainly C++ development tools
– Designing, implementing and testing software for Windows Mobile (C++) and Android (Java)
– Providing technical support to customers and resolving their technical issues escalated from the customer support department
– Liaison role between core team and offshore development team
Software developer
Seven Networks International, Ltd
2006-05 - 2008-10
Planning, implementing and testing of Win32 and Windows Mobile based software components. Solving customers' technical support issues escalated from the Customer Support Department.
Software developer
PartnerTech Åbo Oy
1999-08 - 2006-04
Designing, coding, testing and documentation of embedded and Windows software. In two Windows software projects I was the project leader.
Game programmer trainee
Hybrid Graphics, Ltd
2002-11 - 2003-02
The design, implementation and testing of a SW project, 3D graphics programming, optimisation, application of design patterns and cross-platform development on ARM-based mobile devices
Software Developer
Winbase Sivuntekijät Oy
1998-05 - 1999-04
Application development in Windows environment using C++ and Access Basic tools
Koulutus
Program of Telecommunications
Turku Polytechnic
1994-08 - 1999-06