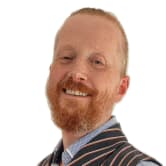 Disponible de inmediato
(Actualizado 2022-10-10.)
IT Expert - Developer - Atlassian Expert
Nativo Norwegian, English, Spanish, Principiante Italian, German
7+ years CTO / Technical leadership / Project Management
10+ years full stack development in Java
5+ years Atlassian expert
Habilidades
(48)
CUSTOMER RELATIONSHIP MANAGEMENT
IT Infrastructure Library
Resumen
IT expert with 20+ years of international IT project experience, of which 14 in
Development.
15 years using Atlassian tools (Jira & Confluence), last 5 years as full time Atlassian consultant.

14+ years doing development, about 10 as a full stack Java developer: Recent development refresher courses + ongoing side projects in Java/Javascript.

Broad background from being involved in Team Leadership, Solution Architecture,
Release Management, CTO, Technical Management, Product Ownership and
Project Management.
Experiencia profesional
Atlassian Consultant, Sales, Project Management
DEISER, Spain
2019-01 - 2022-01
Project based expert help and advisory services related to Atlassian products (Jira, Confluence etc.), how to configure and use them effectively for the best business value. Instance revisions, advisory services, best practices, tweaking, customizations, development with Groovy & Javascript, migrations, integrations and troubleshooting/problem resolution.

Involved in the complete sales cycle from start to end, also including project management in bigger projects.

Worked with big international clients such as Schibsted, Glovo, TUI, Hilti, Trivago, to mention a few, in both Server and Cloud environments.

Business Advisory, Project Management, Sales, Groovy, Atlassian, Confluence, Jira Software, Jira Service Management/Jira Service Desk, Jira Work Management, Statuspage, Jira Align, Atlassian Access, GitHub, Refined, Insight, Elements Connect, Tempo Timesheets/Planner, ScriptRunner, Botron Configuration Manager, eazyBI, HubSpot, Docker, AWS, ITSM, API, REST, JSON, Linux, Postgres.
Atlassian Consultant
Computas, Norway
2017-01 - 2019-01
Advisory services related to Atlassian products, including design and configuration of solutions for Norwegian customers.

Part of the initial team that built up this initiative and got it moving.

Business Advisory, Atlassian, Jira Software, Jira Service Desk, Confluence.
Project Support, Enterprise Architect
Norwegian Health Directorate
2017-01 - 2018-01
Project Support: supported the project manager by identifying tasks, organizing and prioritizing them, and making sure efficient progress is made. Designed the project management and documentation system.
Enterprise Architect: identified technical and functional challenges, collaborated with integration partners in the project to establish the most sound technical solutions, and developed target state and roadmaps.
Project Support, Business Analysis, Roadmap development, Confluence.
Business Analyst
Norwegian Health Directorate
2015-01 - 2016-01
Needs analysis and requirements specification for an electronic application for approval of health personnel. Work included extensive workshops with stakeholders and quality control of all requirements before they were released to the development team. All requirements were documented in Confluence in an Epic/User Story structure, organized by functional areas.
In some cases the work also included a detailed analysis of C# code to verify existing functionality before changes were designed.
In this project there was a fair amount of tension and conflict between the client stakeholders and the development group, making it necessary to act as a bridge builder, empathetic with both parties and negotiate a common ground to achieve the best quality specifications.
Business Analysis, Confluence, Gliffy, UML, BPMN, TFS, Communication, Persuasion, Scrum.
Product Manager Norway
Monsenso
2015-01 - 2015-01
Country responsible for introducing the mental health app Monsenso to the Norwegian national health system.
In addition to sales and CRM it was also necessary to specify GDPR related adaptations to the app for the Norwegian market, done in collaboration with a security expert.
A business case and marketing plan was also developed.
Product Management, Sales, CRM, SalesForce.
CTO, Sales, Business Analyst
Go On Software
2008-01 - 2015-01
CTO: Defining and managing strategic direction for IT and technology in the company. Responsible for defining, implementing and continually improving the Application and Development Lifecycles within the company. Training of classic waterfall development personnel in Agile methods, achieved by a gradual approach through Scrum to later Kanban once their Agile maturity had improved. Definition and Implementation of management processes for IT.
Sales: Regularly executed every step in a Sales cycle, from Cold Calling to Contract Negotiation and signing, including project launches.
Business Analyst: As part of the sales process, executed requirements gathering and analysis, workshops, breakdown of requirements into Work Statements, and also doing estimates for project offers.
Strategic Leadership, Technical Management, ALM, Business Analysis, Sales, Negotiations, CRM, Communication, Persuasion, Jira, Confluence.
Experience (By Employment)
Product Manager, Project Manager - DentLab Manager
Go On Software
2009-01 - 2015-01
Product Manager: responsible for the product development, strategic roadmap and release management of the DentLab product for Dental Laboratories in Norway, including marketing, pricing, sales and functional testing. Extensive workshops were executed with clients to reveal future requirements. Due to the product being directed to the health market, it was required to architect for demanding security and GDPR requirements of the governmental program 'Normen' in Norway.
Extensive integrations with other actors in the health market was required.
Project Manager: define target release content and dates and ensure they were met. Constantly managing the three classic P's of project management, strongly influenced by a very dynamic allocation of team members between several projects external to DentLab Manager.
Product Management, Project Management, Jira, Confluence, Release Management, Scrum, Kanban.
Product Owner, Project Manager
Posiva, Accept Service Partner, Norway
2010-01 - 2015-01
Product Owner: Gather requirements, solution design, business value estimation prioritization of tasks and release planning.
Bridge builder between client and development team.
Project Manager: Define targets for content and release dates and ensure they were met. Included constantly managing the three classic P's of project management, strongly influenced by a very dynamic allocation of team members between several projects.
Business Analysis, Product Ownership, Project Management, Release Management, Jira, Confluence, Scum, Kanban.
Solution Architect
Software Innovation ASA
2006-01 - 2008-01
Architecting IT solutions in tenders and projects. System analysis, system design, and development in Java.
IT Specialist
Design and development of mainly Java and Oracle applications. Team management of a smaller group of developers.

Formación académica
Bachelor in Computer Science
Høgskolen i Bergen
2022-10 - 1995-01
Certificaciones
Atlassian Certified in Agile Development with Jira Software (ACP-JSW)
Atlassian Pro Skills Badge: Email in Jira (ASB-EMJ)
Atlassian Certified Jira Administrator (ACP-JA)
Atlassian Pro Skills Badge: Advanced Jira Workflows (ACB-110)
Java 2 Certified Developer
Certified IT Architect - Foundation (CITA-F)
Digital Business Transformation Management
Contacta con el consultor