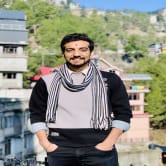 Available ASAP
(Updated 2022-05-28)
Expert React Developer
3+ years of experience in React
Expertise in javascript, typescript, git, jira, azure devops, etc.
Both Web and Mobile Development
Skills
(24)
CONTINUOUS INTEGRATION/DELIVERY
Summary
I enjoy traveling and eating my way around the world, listening pieces of music, and talking
about the future of autonomous vehicles, Internet of Things, Blockchain, NFTS, Possible next-gen
technologies trends and how we can change the technologies. So if you ever want to bounce
ideas off of me, please feel free to contact me. Developer and designer practicing React Native, React and Node for two years and eight months, I
also have development experience on the entire Javascript & Typescript based application as a full
stack developer including, react native, react, etc. I am currently a software architect and remain
passionate about new technologies in general. Particularly interested by the new uses and the
opportunities that can bring the effective and user-friendly solution to the end user, I wish to pursue
my career on solving business complex problems using the technology in the faster and innovative
way.
Professional Experience
Senior React Native Developer
SRKAY Consulting Group
2020-02 - 2022-01
In a corporate company I came across different challenges which gave me vast knowledge and power to solve any problem. This company had taught me many new coding style and structures. I used to lead the React Technical team, gather requirement from the client and convert it into productive output.
React and Node Developer
RejoiceHub
2019-06 - 2020-01
It was my first job experience after completion of my studies. As of I have learn many new thing regarding the front end developing as well as backend developing. I also got acquainted with the project environment and also the company's environment. This was a startup company and therefore working over this place made me acquainted with many technology such as Typescript, HTML, CSS, React, React Native, AWS Services, DevOps, etc.
Computer Engineer
Laurential University
2019-01 - 2019-01
Sudbury, Canada The goal of program was to see the change in the methodology of teaching as well as explore the culture of Canada as a Computer Engineer. They taught Mobile computing and Wireless Communication as well as Web Data Management during the interval of 45 days.
Academic Background
Bachelors of Computer Engineering
Gujarat Technological University
2016-08 - 2020-01