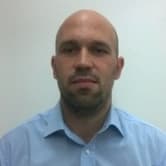 Kan vara tillgänglig
(Uppdaterat 2020-01-10)
Software Architect | Developer
Modersmål English, Spanish
15+ years of experience in app. design and development on Java/JEE stack.
Expert for Microservices arch.,Spring/Spring Boot, JPA/Hiberbate, AngularJS
15+ years experience in full stack development, front end development.
Kompetenser
(73)
Anti-Money Laundering solutions
Java Open Source Projects
Sammanfattning
Mr. Nikolic is experienced Software Architect and Developer that has over 15 years of experience in
application design/architecture and development. He is fluent in English and Spanish.

He has more than 7 years of experience working as IBM consultant specialized for IBM WebSphere Portal
Server, IBM Web Content Manager, IBM WebSphere Application Server and J2EE development. He has
been working both on site and remotely for European and US based clients.

He has been doing web-based full stack development with Java since 2005 and has strong expertise in
technologies and methodologies such as J2EE/JEE, software design patterns, object-oriented design and
analysis, MVC frameworks, Java Open Source Projects and web client side technologies.
He has been doing performance optimization of J2EE applications and code reviews too.

Since 2014 he has been doing mobile application development focusing on designing and building hybrid
solutions based on Apache Cordova / PhoneGap. Experienced in JavaScript development by using
AngularJS, Bootstrap, Grunt, Bower, Npm and other Node.js based tools and solutions. Experienced in
MBaaS implementation by using Parse.com and Java REST services on Amazon Web Services platform.

He is experienced with designing and implementing solutions based on SOA, Microservices and Cloud
Oriented Architecture principles. He's been using cloud solutions like Amazon Web Services (AWS),
Parse.com, Stripe.com, PayPal.com, Zendesk.com and Freshbook.com. He also has experience with
designing and implementing solution infrastructure in AWS cloud.

He started his own company CODEGUIDE on September 2015 where he currently works providing IT
consulting and outsourcing services.
Since 2016 he has been focused on building banking software solutions as Anti-Money Laundering
designing and implementing the solution from scratch in Microservices architecture on modern technology
stack.


Nenad Nikolic
Software Architect
Professionell bakgrund
Founder and Software Architect
CODEGUIDE
2015-09 - Pågående
Nenad Nikolic is founder of company CODEGUIDE where works as enterprise software architect and developer. CODEGUIDE provides consulting and outsourcing services.
Domain Architect
Avnet Services: Business Solutions
2012-01 - 2015-09
Belgrade, Serbia.
Senior Consultant
Ascendant Technology LLC
2012-01 - 2015-09
Serbia.
Consultant
Ascendant Technology LLC
2010-01 - 2012-01
Senior Software Engineer
EUROPEAN DYNAMICS
2008-06 - 2010-01
Belgrade, Serbia.
Software Developer
Levi9 Global Sourcing
2006-06 - 2008-06
Serbia.
Professor of the Computer Science
Technical High School Subotica
2004-09 - 2005-10
Subotica, Serbia.
Akademisk bakgrund
University of Belgrade
University of Belgrade
2023-12 - 2023-12
Certifikat
IBM Certified Solution Developer
Certified Solution Developer
IBM Certified Solution Developer - IBM WebSphere Portal V 6.0