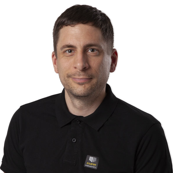 Might be available
(Uppdaterat 2021-02-05)
IT konsult
Modersmål Svenska, English, German, Nybörjare Spanish
11+ years experience of IT Infrastructure
18+ years experience of Industry and Connected Cars (7 years)
5+ years experience of Product Ownership and Scrum
Kompetenser
(50)
24x7x365 On-call services
Microsoft Suite (Office, SharePoint, Collaboration tools)
Manufacturing Execution Systems (MES)
ITSM Systems (ServiceNow, HP Service Manager)
MICROSOFT WINDOWS SERVER 2003
PUBLIC KEY INFRASTRUCTURE
Sammanfattning
Linus is very disciplined and enjoy having responsibility with accountability and ownership of products and people. He is structured, result driven and handles assignments with high energy.
Linus has vast experience in the automotive industry where he has worked in many different roles requiring him to analyze business needs to translate into requirements both technical architecture, communication, and collaboration for product management cross multiple tool chains.
He enjoys working with businesses with high customer focus. He is always curious on benefiting from new technologies and methodologies. He is an expert in analysis and design of customer solutions, both from a technical and organizational perspective.
Linus handles a broad spectrum in his work and is an open, outward, and communicative person who can easily switch between different roles when the situation requires it; architectural, technical, managerial and supportive and feels that his team colleagues is very important to make a difference.
Professionell bakgrund
DevOps Engineer, Workflow Services
Volvo Cars
2020-10 - Pågående
During the autumn of 2020 Volvo Cars continues their journey towards Enterprise DevOps where Linus is part of the Workflow Services team with the assignment to deliver a powerful platform (ServiceNow) for self-service for the IT organization. He works operatively with business analyses and communication but also provides training to the DevOps teams and other stakeholders. Within the communication area the team does on demand trainings also in video format regarding specific topics and he creates sites for self-service. Cooperation is done in communities of practices (CoPs) in MS Teams (among others) and we plan our Program Increments and Sprints in the Azure DevOps tool for our continues improvements.
IT Manager, Operation Orchestration
Volvo Cars
2019-07 - 2020-10
As IMOC Linus had 24/7 on-call representing the Volvo Cars IT management in the technical resolution bridge. He had the responsibility to take decisions regarding Global IT changes, security / GDPR / data breaches and application or infrastructure related IT incidents. During ongoing incident Linus coached the involved DevOps teams within the technical bridge towards the fastest possible resolution.
He also communicated the current ongoing incident status with management. The assignment also included evolvement of the team's way of working towards Agile (SAFe) model for Enterprise DevOps within the product teams with focus on operations. Linus onboarded several new colleagues into the on-call team.
Team Leader, Connected Car
Volvo Cars
2013-08 - 2019-07
Volvo Cars launched their first in-car IT services 2013 and the newly created Connected Car group got
the responsibility to develop and support Volvo On Call (customer offering that existed earlier) and Sensus Connect (applications in the car, new offer). The Connected Car organization developed and supported the infrastructure and services around the vehicles. Linus joined the group from the beginning and built the operations organization. During 5+ years, he was leading a team of 10+ colleagues. The team supported 25+ end customer (car owner) services. The team supported several of these global services 24x7x365 including communication with colleagues scheduled on-call. The team designed the services support from an end consumer perspective collaborating with suppliers and developers globally. The assignment included a lot of global traveling and communications to all markets and cultures were Volvo Cars are present. Focus is always to give the end consumer the best possible experience of the service offerings cross support, operations and new development!
Team Leader, Application Operation
Länsstyrelsen i Västragötaland
2012-08 - 2013-08
The county's administrative board (Lansstyrelsen) in Vastra Gotalands IT department has the responsibility for operation, support and development of application and systems that are used by the different counties in Sweden. During 2011 the Swedish counties IT was centralized to Vastra Gotaland IT and the Application Operation team spanning cross Sweden was created to coordinate the IT efforts between all counties. Linus was Application Operation team lead with the assignment to map the
different counties IT systems in different MS Windows environments to give facts for our client to base
strategic decisions on. This was done by Linus and the team as 3rd level support specialists handling technical and system end user cases, coordinating supplier efforts and collaborating with the Swedish counties IT colleagues.
Application Operation Engineer
Volvo Cars Pininfarina Sverige AB
2007-08 - 2012-08
The Volvo Cars (VCC) factory in Uddevalla built complete cars of the specialized cabriolet model C70 up until 2013. Here Linus worked with several assignments within IT and infrastructure. Within Application Operation (AO) Linus did IT operations, improving IT infrastructure in the factory and 2nd line incident management all needed for a modern agile car factory. The infrastructure was based upon Microsoft Windows with unique adaptations for production. The IT systems were run on physical hardware as well as virtually primarily using VM-ware.
Onsite IT Technician, SDDC Operations
Volvo Cars Pininfarina Sverige AB
2009-11 - 2012-08
SDDC - Service Desk Distributed Delivery (On-site IT for Volvo Cars at their PFS factory)
The SDDC assignment handled office related IT issue through ITSM tool including all 1st line incident management of the onsite infrastructure in the production on the car factory in Uddevalla. As SDDC technician Linus worked customer facing as well as towards the parented IT organization within VCC. The work contained daily contacts with dozens of resolver teams including handling administrative system solution in an end consumer environment based on Microsoft technology.
IT Engineer, SILS
DHL Exel Supply Chain Trollhättan
2002-03 - 2007-07
SILS (JIT Delivery IT Logistics to SAAB Automobile)
The SILS plant was a logistics and assembly center delivering thousands of components from around 60 suppliers just in time (JIT) to the SAAB Automobile factory. The material was ordered via EDI to be sequences and preassembled in dollies for delivery to the correct position on the production line.
Linus joined DHL just after the concrete foundation for the 24k sqm center was done and in his role as system technician involved building the infrastructure from scratch supporting the delivery of material for one vehicle / week up to at most 600 vehicles / day. Operations was done in shift schedule including continuous improvement work to accommodate for internal DHL and customer SAAB requirements.
The infrastructure was based on Microsoft technology and the system solution for JIT deliveries was based on Oracle DB. EDI (Electronic Data Interchange) concept handled the logistics of planning, order, delivery and material reception interfaced with MS Access as report generation tool. Zebra printers for labeling each part which were then scanned in sequence with handhelds to assure precision delivery.
Akademisk bakgrund
Computer Engineering
Östrabogymnasiet
1996-08 - 2000-06
Certifikat
Microsoft Certified Systems Engineer
Microsoft Certified Professional
Certified PADI Advanced Open Water diver with med specialist courses
SAFe 4.6 DevOps Practitioner
Management 3.0 Foundation
ITIL Lifecycle – Service Design
Configuring Windows Server 2008 Active Directory
Implementing and Managing Windows Server 2008 Clustering
Configuring & Troubleshooting a Windows 2008 Network Infrastructure
Implementing and Managing Microsoft Exchange Server 2007
Managing & Maintaining a Microsoft Windows Server 2003 Environment