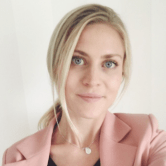 Kan vara tillgänglig
(Uppdaterat 2021-03-31)
Digital Consultant
Modersmål Svenska, English, Flytande Norwegian
Digital marknadsföring
Informatik
Projektledning
Sammanfattning
An enthusiastic and detail-oriented professional with strong communication and
problem-solving skills. A background within different countries and cultures, developed
great knowledge to handle changes, be responsive, but above all to build strong
relationships. With my positive attitude and my passion for digital transformation, I am
driven to start a position where I create value and work towards different goals together

with my team.
Professionell bakgrund
Freelance Consulting
Helping clients to expand their digital marketing into new markets by doing
research, planning and implementing media strategies, according to the products and the markets.
Senior Digital Account Executive
The Media Image
2019-01 - 2020-08
Helping clients to expand their digital marketing into new markets by doing

research, planning and implementing media strategies, according to the products
and the markets.
• Analyzing data to quickly understand and support initiatives that will contribute to the goals and success of client campaigns.

• Providing campaign performance reporting and analysis to clients and key
stakeholders.
• Managing paid activity on channels such as: Google Adwords, Bing Ads, Facebook,

YouTube, Snap Chat, UAC, and Apple Search Ads.
Retail Operations at Harrods HQ
2018-09 - 2019-01
Successfully developed and maintained an accurate database of customers'
account records to ensure smooth and risk-free transactions for all financial
processes during peak season.
• Handled all online - and telephone orders and gave support to all store managers
regarding IT and high value transactions.

• Processed transactions after examining financial track records and potential
financial risks including fraud (worked closely with: Compliance Team, Stock Controllers and Financial Entities).
Event Staff
Svenska Mässan
2017-09 - 2018-09
Offering excellent customer service during different events and conferences. Tasks
includes a wide array of tasks, the main responsibility was to make sure visitors had
a great experience, but also include a supporting role to exhibitors.
E-commerce Customer Service
Hemtex AB
2017-09 - 2018-01
Provided excellent customer service at all times with finding suitable products on
the website and checked availability in ERP Systems.
• Maintained a friendly manner and calm, positive demeanour when handling
complaints.
• Taking care of invoices, place and adjust orders, follow up order stock.
Senior Payroll Administrator
Iduna AB
2011-09 - 2016-08
Successfully managed all aspects of payroll administration for over 200 jewellery
stores.
• Was employed during an implementation of a new HR system. Identifying
improvements and assist in driving new or changed processes and methods that
improve efficiency, accuracy and credibility of payroll process.
• Work with Finance Manager, Payroll Assistant and IT Project Teams to deliver
system and process improvements to enhance Payroll function efficiency.
• Train the new employees at the payroll department. Provide them with important
information and resources as part of training procedures.
problem solver
Bank Sales at Forex Bank
2015-09 - 2016-06
Gothenburg
September 2015 -- June 2016

• Offering excellent customer service by being a good listener and an effective
problem solver.
• Executing sales strategies and handled banking sales.
• Coordinating with customers on account requirements and assisting customers
with deposits, withdrawals and opening new accounts.
Sales Associate at Reiss
• Responsible for providing customers with excellent customer service.
• Tasks included sales, cash management, administration, taking care of deliveries,
inventory management, and other store operations.
Akademisk bakgrund
Bachelor's Degree in Business Administration & Informatics
University of Borås
2014-09 - 2018-06
Bachelor of Science
Shanghai University of Science and Technology
2016-09 - 2017-07