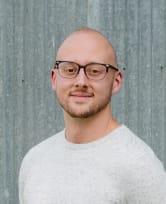 Kan vara tillgänglig
(Uppdaterat 1+ år sedan)
Digital Beteendestrateg
Modersmål Svenska, English, Flytande Norwegian, Mellan Danish, Spanish
Expert inom digital beteendeförändring
Scrum och agile projektledning
User-centered product design
Sammanfattning
Experienced behavioral design lead with significant global experience in supporting
organizations using behavioral insights to create scalable tech solutions. This includes
significant expertise in building user-centered and habit-forming products and services while
applying insights from behavioral economics, psychology, gamification, and applied
behavioral science. Upcoming author of the book "Nudging in practice" which helps
organizations to efficiently incorporate the latest practical and theoretical insights from
applied behavioral science in their day-to-day product development operations.
Professionell bakgrund
Behavioral Strategist
Behavior Lab
2017-01 - Pågående
Behavior Lab is the first and leading behavioral consultancy in Sweden. Responsible for
managing wide-ranging types of projects related to behavior change and providing behavioral
consulting services. Foremost expertise targeted towards developing scalable digital products and services in the health sector utilizing insights related to behavioral change and habit
formation. Beyond strategy and consulting assignments, a large part of the role includes
public speaking and facilitates workshops.
Behavior Change Expert, MyLi
LiveIncite
2018-01 - Pågående
Lead expert on behavior change and persuasive technology in EU project aimed at
developing digital support powered by machine learning for patients with smoking and alcohol problems. Responsible for creating the theoretical framework of behavior change
using the Taxonomy of Behavior Change Techniques, and for advising the behavioral design
strategy and selection of methods to best promote habit formation in the app and platform.
Behavioral Strategist
Lifesum
2017-01 - 2018-01
Lifesum is a digital app helping over 35 million users to create better eating and health-related
habits. Provided insights on digital behavioral change strategy in a multidisciplinary product
development team and responsible for the behavior change related components of creating
app-based health plans intended to support users in developing long-term healthy habits.
Project Manager
LiviaCare
2017-01 - 2018-01
LiviaCare provides an innovative digital education solution for employee and business
development. Responsible for a multidisciplinary team in designing online programs aimed at creating behavioral changes around diet, exercise, and other health-related habits.
Behavioral Strategist
Deedster
2018-01 - 2018-01
Deedster is a digital app that aims to make it both fun and easy to live more sustainably. Was
project lead responsible for completing an assessment on the app using The Hooked Model and then lead the whole team, including management and developers, through several
design-sprints and significant updates and improvements.
Founder & Behavior Strategist
Behavior Change + Design
2016-01 - 2017-01
Behavioral design firm focused on educating and supporting small to medium-sized
organizations on how to understand and change behavior through digital solutions. Led
several strategy assignments, and provided workshops and lectures.
Intermediate Advisor
Hayes Knight
2015-01 - 2016-01
Hayes Knight is one of the largest and fastest-growing consulting firms in Australia and New
Zealand. Responsible for advising companies on organizational change and financial
restructuring strategy.
coach.me
2015-01 - 2016-01
Supported individuals from all over the world with developing habits in reading, exercising, and meditating using the plans developed from the latest research on habit formation.
Achieved a close to 90% success rate with overall rating from clients of 4.9/5.
Akademisk bakgrund
School of Business for academic and entrepreneurial excellence
School of Business for academic and entrepreneurial excellence
2023-06 - 2023-06
Bachelor of Commerce
University of New South Wales
2012-01 - 2014-01