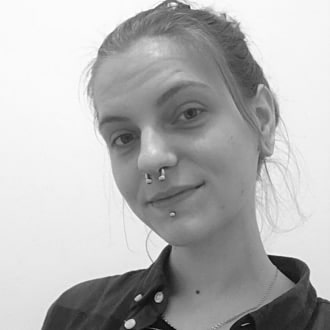 Available ASAP
(Updated 2021-01-22)
Frontend utvecklare, UX designer
React
Web development
JavaScript
Summary
Martina is a young up and coming front end developer with a true passion for creating functional and aesthetically appealing solutions. With an open mind for techniques and languages, as well as a developed sense for design and UX, Martina would be a good asset for any development project. There is also a true interest in learning more with Martina, and the aim is to become a well rounded full-stack developer within time.
Being social and making sure that both the team and the project is healthy is one of Martinas primary traits.
Professional Experience
Software Engineer, UX Design
Skymill AB
2019-09 - Present
Skymill is a software and product development company.

Responsibilities and concepts:
Frontend development, web development
Projects:
GoGift (gogift.io)
GoGift produces custom made gift card solutions for clients worldwide. The project is aimed at launching a new platform and to globalize all existing websites. Responsible for the frontend development.
Technologies used:
Javascript, React, Redux, SASS, GraphQL, Algolia, Semantic UI, react-intl, Docker
Front end developer
Lead Wizards AB (Donna.legal)
2015-01 - 2017-01
A company using AI technology to generate leads relevant to companies based on existing customers.

Responsibilities and concepts:

Front end development, web development, UX design

Technologies used:

Vue, Javascript, SASS, HTML, Sketch
Frontend developer
Odd Hill
2014-01 - 2015-01
Built drupal-based websites and other services for customers including, European Spallation Source, Tetra Pak and Medicon Village.

Responsibilities and concepts:

Front end development, web development

Technologies used:

Drupal, Javascript, HTML, LESS, SASS
Intern - web development
Zetkin Foundation
2019-01 - 2019-03
Developed a React web app for managing administration of the Zetkin Platform.
Responsibilities and concepts:
Web development, UX Design
Technologies used:
React/Redux, NodeJS, Docker, Material-UI, Sketch
Intern - Android Development
Bimobject
2018-03 - 2018-06
Worked with designing and building a native Android application using the company's API.
Responsibilities and concepts:
Android development, UX Design
Technologies used:
Java, Gradle, Sketch
Academic Background
Java developer
EC Utbildning Helsingborg
2018-08 - 2019-05
Rich Web App Developer
Teknikhögskolan Varberg
2013-08 - 2015-05