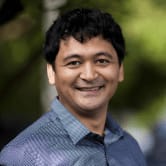 Kan være tilgjengelig
(Oppdatert %updatedDate %)
Tech Lead
Innfødt Norwegian, English, Flytende German
30 years of work experience and has been involved in over 800 IT projects
Has founded and built several technology companies to success
Extensive working experiences as programmer, architect and manager
Oppsummering
Paal Kristian is a trained programmer with over 30 years of work experience and has been involved in over 800 IT projects as programmer, architect and manager. He has managed large projects with 5000+ people. He has worked as a solution architect on projects that handled turnovers above billions of dollars with zero downtime.
His excellence is in high-speed real-time systems and mobile/wireless infrastructures. Paal Kristian has extensive knowledge within markets like logistics, telecom, smart cities, welfare and transportation.

His specialty is to adapt and enhance Agile methodologies like Scrum to large complex systems with high-performance requirements and continuous integration. He has hands-on expertise with cloud technology, distributed computing, virtualization, shared memory replication, grid computing, semantic web for embedded systems, data capturing, IoT and sensing technologies.
In recent years Paal Kristian has founded and built several technology companies to success. He is the inventor of a full stack distributed operating system kernel used to protect and share real time data in Linked Data network and has implemented networking technologies that handle millions of transactions per second with zero downtime.
Arbeidserfaring
TECH LEAD
POSTEN
2021-02 - Nåværende
Norway - Managing and building a Pricing and Cost system for Posten
CEO/ARCHITECT
Nornir AS
2013-02 - Nåværende
Norway - Managing and building a deep tech company specializing in AI and real-time IoT for Smart City infrastructure. Microservice architecture for machine learning and product development.
CEO/ARCHITECT
Foretaksregisteret NO
2009-02 - 2013-02
Oslo, Norway - Managing and building a R&D company within Blockchain and distributed operating systems
SCRUM MASTER
Element Storage System
2008-10 - 2009-02
Oslo, Norway - Worked as interim manager to solve the crisis and restructure the development department for Element Storage Systems. Introducing scrum methodology
AGILE SYSTEM ARCHITECT
Marcello Systems AS
2007-09 - 2008-09
Norway - Crisis handling as interim architect to replace old architecture with a new cloud-based architecture for Nokia Siemens Network, NetCom and Telia (Trådløs Bedrift). Design of Omnipresence; a new generic real time platform (omnipresence) with full-duplex streaming and multi-channel distribution
PROJECT MANAGER
Choice Hotels Scandinavian
2007-01 - 2007-09
Norway - Crisis handling as interim manager for Choice Hotels Scandinavia. Replacing the old booking system with a new online booking system affecting 8000 employees and all hotels in the Nordics and Balticum
SENIOR PROGRAMMER
MOMENTUM MMCP (HooHa)
2004-07 - 2006-08
Norway - Programming and developing three content provider platforms to distribute mobile content to Norway, UK and France
SENIOR DEVELOPER
Telenor
2003-07 - 2004-06
Norway - Responsible for consolidating and implementing Agile methodology and continuous integration for 6000 Telenor employees (telenor @work). Held courses on Agile infrastructural tools for change management control and integration Nornir AS | Foretaksregisteret NO 999 546 269 | www.nornir.io | (+47) 482 01 265 2 (5)
INFRASTRUCTURE MANAGER
Telenor Mobil (CommonTechnology)
2003-01 - 2003-07
Norway - Internationalisation of Djuice. Introducing a new production line using Agile methodology to handle concurrent change management control on 80+ projects in Telenor
SYSTEM DEVELOPER
Telenor
2001-06 - 2003-01
Oslo, Norway - Developing djuice.com; introducing Agile methodology and continuous integration for over 300 developers to handle 40 parallel deliverables automatically. Held courses and lectures in automatic production and deployment. Introduced unit testing and performance testing on business critical applications
SYSTEM CONSULTANT
Wiscom Solutions AS
2000-05 - 2001-01
Norway - Held courses and introduced Palm OS in Wicom. Built the code base
EMBEDDED PROGRAMMER
Nortrade Elektronikk AS
1998-09 - 2000-05
Norway - Development of logistical systems and data mining solutions. Development of PDA with a built-in bar code reader. Experimental solutions for wireless LAN (spectrum 24) and mobile units with built-in GSM. Development of Conduit for database mapping through Hotsync (PalmOs)
SERVICE REPAIR
Nappens Radio/TV
1993-01 - 1993-08
MILITARY OFFICE MANAGER
Nappens Radio/TV
1992-03 - 1993-01
Norway - Luftforsvaret Gardermoen/Sola, served as barracks chief for the camp unit. Officer school at Gardermoen
Akademisk bakgrunn
MSc​ ​Distributed​ ​Information​ ​Systems​ ​and​ ​Computing
NORGES INFORMAJONSTEKNOLOGISKE HØYSKOLE
2023-09 - 2007-08
B.S.​ Micro​ ​Electronics​ ​and​ ​Computing
HØGSKOLEN I SØR-TRØNDELAG (NITH)
2023-09 - 1998-08