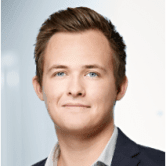 Può essere disponibile
(Aggiornato% updatedDate%)
BI (Power BI) & Data Science Analyst
+4 years experience with Power BI
+4 years experience with data science
+6 years experience with Business Intelligence
Competenze
(27)
Governance, Risk and Compliance
Riassunto
Motivated and teamwork-oriented economist (Msc. Econ) with several years (6+) of experience working as a management consultant with a primary focus on data analytics and project management. I've worked with Business Development/Intelligence/Analytics, Credit Risk Models, Risk Management and GRC-Frameworks.
Experience with tools such as Power BI, Python, Azure services (especially DevOps), SQL, Tableau and Alteryx.
Significant experience from working with some of the largest Nordic banks and C25 companies from an analytical perspective, where assignments have included everything from setting up simple BI reports & dashboards, building the entire data flow from end to end, and IT project management.
I am particularly interested in digitalisation and how the application of digital tools and data will affect organisations - both from a quantitative and governance perspective.
Esperienze professionali
Assistant Manager
Deloitte
2020-11 - Presente
Senior Management Consultant
Implement Consulting Group
2021-01 - 2022-11
Associate
Delegate
2017-01 - 2018-09
Developer - Master Thesis student
Danske Bank Talentbox
2018-07 - 2019-01
Esperienze formative
Msc. Econ
University of Copenhagen
2017-01 - 2019-01
MSc. Data Science and Governance (Part of my Msc. Econ degree)
Tilburg University
2017-01 - 2017-05