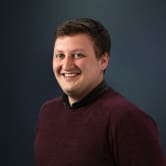 Might be available
(Updated 1+ year ago)
UX Designer
Proficient prototyper using all industry tools.
5+ years experience in UX.
Use a lean design process with design sprints + user testing
Professional Experience
UX Designer
Made to Engage
2017-06 - Present
Scott Robinson Made to Engage is a full-service design and development agency creating
web solutions for clients such as Hornby, Energia Group, Irish Life, Easons
User Experience and Permanent TSB.
Designer
As a User Experience designer I specialise in designing delightful experiences
hello@scottrobinson.co.uk no matter how complex the use case or underlying system might be. I'm
driven to always get to the heart of a problem and understand the effect
+353 (0) 87 625 7018 on the people using a system or product. My work is always grounded in research and using an iterative design process, I involve the intended
audience throughout.
Academic Background
University of Dundee
University of Dundee
2010-09 - 2014-06