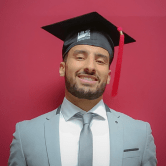 Might be available
(Mis à jour 2020-03-28)
Innovation Manager & Consultant💡💛♻️🎯
Natif French, Courant English, Intermédiaire Spanish, Débutant Japanese, Arabic
3+ années en management de projet d'innovation
2+ années identifier les points d'amélioration du management d'entreprise
1+ années en développement front-end et webmarketing
Compétences
(21)
CUSTOMER SERVICE MANAGEMENT
INNOVATION PROJECT MANAGEMENT
AGILE & SCRUM METHODOLOGIES
Résumé
Consultant Junior en freelance et Innovation Manager, j'accompagne les entreprises dynamiques et concurrentielles qui souhaitent se développer par le biais de l'innovation. Contribuer à exploiter de nouvelles formes de management, de nouveaux potentiels créatifs, et de nouvelles formes d'utilisations, est pour moi une joie et un privilège !

Jeune homme passionné par les révolutions d'idées, je suis avant tout avide de nouveaux challenges ! Si vous désirez davantage d'information sur mon parcours, échanger, ou tout simplement, collaborer, n'hésitez pas à me contacter.
Expérience professionnelle
FREELANCE CONSULTANT
AUTO ENTREPRENEUR
2018-09 - Actuel
Place : Toulouse (FRANCE)

Foundation of a web solutions agency for SMEs:
• Definition of quali and quanti objectives (BM)
• Construction of the marketing strategy (BP)
• Selections of the sales tunnels
• Web Development (WordPress), Web Design and Content Management
• Creation of visual identities and stories
• Launch, follow-up and analysis of communication campaigns
• Customer acquisition and loyalty
• Construction and strengthening of commercial offers
MARKETING SPECIALIST
エコールサンパ
2020-06 - 2019-12
Place : Tokyo (JAPAN)

In charge of developing and applying a marketing automation strategy within a french school in Japan:
• Construction of a marketing automation strategy using the open source software Mautic
• Identify points of improvement of existing marketing
• Analyse the gaps in the customer experience
• Continuous improvement of the User Experience (Design Thinking, Innovation Marketing), through an agile approach (tests/analysis)
• WordPress Developer Full Stack: Avada tools & consorts
• Implementation of the traffic growth strategy to the qualified audience
• Generation of coherent lead
• Improved the lead engagement in all phases of conversion tunnels
• Improved the website traffic conversion
• Measurement, analysis and assessment of performance indicators (ROI, KPIs).
INNOVATION PROJECT MANAGER
OPAC 38
2017-09 - 2018-07
Place : Grenoble (FRANCE)

Management of exploration projects :
• Support from the Project Manager
• Organization and dissemination of innovative experiences and practices
• Impulse the innovation in all activities of the company
• Feasibility study of innovative ideas
• Stimulating the participative dimension
• Competitive intelligence and innovation intelligence
• Innovation advice
• Carrying out surveys (quali / quanti) and customer questionnaires
• Administrative management (procedures, forms ...)
• Participation in the study of the economic feasibility of innovation projects
PROJECT MANAGEMENT
MARIEBEY AGENCY
2016-03 - 2016-08
Place : Paris (FRANCE)
Work-study internship during the bachelor degree in Management of services :
• Manage a coworking space
• Analyse communication and marketing needs
• Realizing communication strategy
• Supporte business development and growth through an e-marketing strategy and a netword marketing
• Develop public and private partnerships
• Realise marketing visuals and databases
• Community management : federate and animate of social networks
MARKETING ASSISTANT
COCOZEN INC.
2014-04 - 2014-07
Place : New York (UNITED STATES OF AMERICA)
Work-study internship during the bachelor degree in Management of services :
• Manage a coworking space
• Analyse communication and marketing needs
• Realizing communication strategy
• Supporte business development and growth through an e-marketing strategy and a netword marketing
• Develop public and private partnerships
• Realise marketing visuals and databases
• Community management : federate and animate of social networks
Parcours scolaire
JAPANESE LANGUAGE AND CULTURE
Jean Jaures University
2018-09 - 2019-05
MASTER DEGREE IN MANAGEMENT OF INNOVATION
IAE Grenoble - Grenoble Alpes University
2016-09 - 2018-07
BACHELOR DEGREE IN MANAGEMENT & INNOVATION
Paris-Est Marne-la-Vallée University
2015-09 - 2016-09
HIGHER NATIONAL DIPLOMA IN INTERNATIONAL TRADE
Émile Dubois School
2013-09 - 2015-07