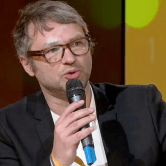 Might be available
(Mis à jour 2020-03-04)
Expert Digital Transformation
Natif French, Courant English
20+ years experience in marketing and digital
CX & UX driven / Design Thinking, Scrum.
strategy, business process, team recruitment & management
Compétences
(28)
CUSTOMER RELATIONSHIP MANAGEMENT
SEARCH ENGINE OPTIMIZATION
Résumé
I support business leaders and C-levels in setting up digital teams and managing their transformation projects.

20+ years international marketing & digital experience in various industries, from startup to billion dollar public company. Entrepreneur / Consultant / Speaker in conferences, congress and press.
English fluent / French native.

Define and execute strategy / Audit & improve operations / Management of multicultural teams
Experience with agile Scrum & design thinking methodologies / UX & CX driven

Areas of intervention:
/ web & mobile marketing / ecommerce / social media / CRM / marketing automation / IoT / data & analytics / product management

# Marketing # Communication # Business Development # Sales # Management # Strategy
# Team Leader # Creative
Expérience professionnelle
MARKETING AND DIGITAL DIRECTOR
COLIBEE
2018-01 - 2020-02
Interim Management Position

Reshaping consulting industry. A new generation consulting firm, Colibee is transforming its organization and operational processes to manage its growth. The establishment of a proprietary business platform is at the heart of the strategic plan.
As Marketing Director, I turned the department into a "digital first" 4-person digital team with structured inbound strategy, social media effectiveness (including social selling), search engine marketing (SEO + SEA), digital media campaigns and marketing automation (email marketing).
As Digital Director: scope embraces the company platform - acting Product Owner - as well as digital solutions for all services. Setup from scratch a 5-person technical team working with Scrum methodology to develop and maintain internally the new platform. Define and execute the product roadmap.Setup of CRM solution (Hubspot) and Linkedin Sales Navigator for both sales and marketing teams.
CHIEF DIGITAL OFFICER
DERICHEBOURG Multiservices
2016-05 - 2017-09
Interim Management Position

Leading operator in services for companies and public services. 14 subsidiaries - 29K employees - 1B$ turnover - Public

/ Mission
Define & execute a digital strategy with the aim to impulse digital transformation at group level.
Reporting to CEO

/ Achievements
- Setup digital department / management team of 4
- Animation of a 30-members working group (top & middle managers) on innovation & digital topics.
- Setup of Social Media strategy and digital marketing campaigns
- Specification and steering of 2 disruptive innovation projects involving IoT
- Steering of 2 digital applications for HR & training
- Specification of version 2 of the core business application for field services management
GLOBAL HEAD OF DIGITAL
CAUDALIE
2015-07 - 2016-02
Interim Management Position
Cosmetics industry / Skincare

/ Mission
Audit & improve digital operations globally.

/ Main achievements
- Manage digital operations and team of +15 in US, Europe & Asia
- Break the digital "silo" with new organization of department
- E-commerce: revamp navigation to increase cross-selling; setup of online spa booking;
- CRM & Loyalty program: improve UX & set a "phygital" approach
- IT: switch hosting to AWS Cloud infrastructure
- Communication: coordination of 2 international product launch campaigns
HEAD OF MARKETING
KOLIBREE, The Connected Toothbrush
2015-02 - 2015-06
Interim Management Position

IoT startup in healthcare industry pioneer in connected toothbrush and digital dental care software

Set post-funding marketing operations:

1 - Define and set detailed marketing plan
Focus on digital marketing / direct sales through brand e-shop and Amazon marketplace / awareness and lead generation.

2 - Structure sales & marketing department
- Recruitment & set productivity tools: Project management, CRM, etc.
CEO / CO-FOUNDER
KICK YOUR APP
2010-01 - 2015-01
Mobile Marketing Agency / Digital solutions for communication and digital transformation

/ Strategy & business development from scratch up to €1M gross profit
/ Recruitment & management of 12 team members
/ Project leader on strategic accounts
/ managed UX & UI & technical production
/ Strategic consulting
/ Sold company to Advertising Agency CHANGE - June 2014

Main projects
- CANAL+ / Digitalization of the monthly paper magazine for +6M subscribers / Web & Mobile apps / 2+ Years
- KINGFISHER plc / Group Internal Social Network / BYOD policy / 3+ Years / Agile methodology
- P&G Oral Care / For both Oral B and Fluocaril sales reps / Sales aid application on iPad / 6 months
NON-EXECUTIVE BOARD MEMBER
Social Media Management Software
NON-EXECUTIVE BOARD MEMBER / CO-FOUNDER
SILICON VILLAGE
2010-09 - 2013-03
Digital consulting firm & agency
MARKETING DIRECTOR - HEAD OF EUROPEAN CONSUMER DIVISION
BARACODA - Paris & New York
Hardware manufacturer pioneer in Bluetooth Wireless Technology & Connected objects.
/ Brand Strategy & Planning / P&L Management - €5M / Team Management (6)
/ B2B and B2C distribution channels - Setup & animation
WEB CONSULTANT
Web Agency
2000-11 - 2001-09
ICON MEDIALAB - Paris & Stockholm
Web Agency - Acquired by LBI International AB in 2006 to become DIGITAS LBI in 2013
/ Consulting and design of digital solutions / Strategy / Business objectives / Pre-sales
Producer
UKIBI - New York City
1999-07 - 2000-10
Web Application Service Provider / Pioneer in the Unified Address Book arena and SaaS.
Acquired in 2003 by CriticalPath, Inc
Interfaced with Marketing and Sales and Engineering teams to position, brand, design and produce internal and commercial web applications.
WEB DESIGNER & PROJECT MANAGER
Multimedia Studio
During my tenure, I managed over 20 projects for various corporate clients, including production of web sites, online communication plans and multimedia applications.