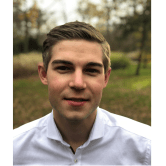 Might be available
(Updated 2020-06-08)
Projekt leder og backend udvikler
Native Danish, English, Beginner German,
Mssql
API development
Python
Summary
• Entrepreneurial: In September 2018 I co-founded a company providing software and statistical
analysis to utilities.
• Analytical and pragmatic: I approach problems in a structured and pragmatic way.
Professional Experience
Co-founder, Sense Analytics
Entrepreneurial: Sense Analytics provide software and statistical analysis, that based on existing
data tracks and detects new leak occurrences. The purpose is to reduce utilities' non-revenue water, which is good for both the bottom-line and the environment.
Sales Assistant
Composed: Løberen is selling running shoes and clothes in their stores all around Denmark. I
worked in their store located in Roskilde, where I gained experience in selling and advising
customers about choosing the right running shoe.
Junior Consultant, Consultant and Board Member
Compass Datawarehouse A/S
2014-05 - 2014-05
Programming, Sale and Implementation: Compass DWH develops and sells IT-solutions to municipalities and their portfolio consists of forecasting-, payment/e-invoice/settlement/collection
systems. I gained skills in SQL programming, sales experience and how to implement solutions in an
efficient way. As a member of the board I take part in strategic decision making and execution.
Danish Defence, Royal Life Guards, Conscription
2013-08 - 2014-03
Teamwork: Communicating with people from entirely different backgrounds to my own and live
closely by them is instructive and enforces you to be a teamplayer which is crucial in order to accomplish goals. I received the highest possible grade in usability and conditions in the service.
Academic Background
Universität Bern
Universität Bern
2018-01 - 2018-06
BSc
University of Copenhagen
2014-09 - 2017-06
A-levels
High school, Roskilde Handelsskole
2010-09 - 2013-06