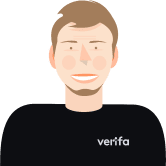 Saattaa olla saatavilla
(Päivitetty 2023-05-30)
Technical Consultant
Äidinkieli English, Keskitasoinen Finnish, Aloittelija Spanish
Expert with multiple programming languages
Automation and DevOps Engineer and Coach
Strong understanding of core fundamentals and principles; adaptable
Työkokemus
Entrepreneur
Arctic Mage Games Oy
2021-06 - Nykyhetki
Software consultant to the entertainment industry and arts. Game developer, DevOps engineer, art installation engineer, composer, artist, voice actor.
Built, managed, and maintained cloud-driven DevOps, including a self-managed GitLab installation and pipelines, and support for cloud-hosted serverless web games using AWS Lambda, S3, DynamoDB, and other technologies.
Chief Technical Oæicer
Critical Charm
2020-01 - 2021-05
Working with a small game development team to overhaul the project workflows, methods, and tool chain. Guiding team development and providing mentoring and support. Introduced many architectural improvements to the existing Unity/C# project and oversaw their execution. Also assisted with design, production, and business support. Introduced automated builds & DevOps to the team and environment using GitHub workflows. Handled cloud operations for a large-scale Virtual Reality convention project.
Project Lead Programmer
Frozenbyte Oy
2017-08 - 2019-12
Tools, technology, and gameplay programming for the recently announced Starbase game.
Numerous elements of procedural generation, including addressing and generating every rock in a planetary ring. Assessing and iterating on project workflows. Initiative and epic organization.
Team leadership, mentoring, and support.
Senior Programmer
Mindfield Games
2016-02 - 2017-08
Tools, build management, architecture planning, and production planning. Primary programmer of Flocklore, with a strong focus on level editor and tooling to enable rapid development by other disciplines.
Hobby Work Developing integrations for industry tools, custom tool suites, and game development.
Examples: ● Mystcraft (modification for Minecraft) ● Godot tooling and game projects ● CI/CD solutions for major engines ● Mediawiki integrations ● Pixel Art and Music Composition
Koulutus
Master's Degree in Computer Science
University of Helsinki
2023-05 - 2014-01
Sertifikaatit
HashiCorp Certified: Terraform Associate (002)