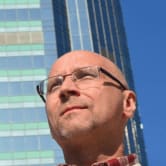 Saattaa olla saatavilla
(Päivitetty 2022-10-20)
Senior Project Manager
Äidinkieli Finnish, Sujuva English, Aloittelija Svenska, German, Aloittelija Chinese
Ulkoistukset
Toimitusprojektien hallinta
Transformaatio
Yhteenveto
· I have 30 years international business experience in technology domain, main strengths and interests in working between the business and technology
· Specially meritated in planning and delivering outsourcing, out-tasking, transition and transformation projects
· My professional experience is wide, including R&D, project management, sales, general management and large transformation project management for private and public sector
· I have been successfully developing and executing business driven strategies and transformations, building and managing large organizations and legal entities, and carried business responsibilities (P/L) in public listed companies
· Even though I am a team player, I am capable of working and making decisions independently
· Selected as 'Top 100 Influencers' in Chinese Mobile Industry
Työkokemus
CEO, Partner
Perille Mobility Services Oy
2019-04 - 2022-02
Founder & CEO
10SIT Sp. z o.o
2018-04 - 2019-04
10SIT [ˈtɛn.sɪt:] offered competent, scalable and cost effective software development services from Poland to Finnish and Scandinavian IT needs.
Founder & CEO I was building IT services company in Poland with a few SW delivery projects to Finland, and the company was closed due to end of runway.
Useita
Tieto Oyj
2007-07 - 2018-03
Delivery Executive, Financial Services
Total P/L
2015-12 - 2018-03
responsibility for service and product deliveries towards several insurance companies. The deliveries include IT infrastructure services and application development and maintenance services.
Head of Operative Planning, Product Development Services
Tieto Oyj
2013-11 - 2015-11
Responsible for demand/supply balancing for 3.000+ people in 250 m€ annual turnover business.
Business Program Manager, Product Development Services
Tieto Oyj
2012-05 - 2013-10
Business owner for a transformation program and 7 projects, where 240 R&D and maintenance engineers in Finland were outsourced and reallocated to other roles in Tieto, and their tasks were transferred to offshore countries (Philippines, China, Poland).
Head of Network Services (Finland)
Tieto Oyj
2010-04 - 2012-04
Established global organization with professional services portfolio and global delivery capability for fixed, mobile and converged networks' implementation and maintenance needs.
General Manager
Tieto (China) Co., Ltd
2007-07 - 2010-03
I was P/L responsible for all the company operations in China, including strategy generation and execution. In less than 3 years I, together with my superb team: • Increased profitable net sales over 600% • Increased China headcount organically and profitable from 80 to 850 people • Established offices in Chengdu in 2008 and in Hangzhou in 2010 • Acquired several local customers, China Mobile being the most important
Senior Project Manager
Airbus Defence and Space (was EADS)
2006-04 - 2007-06
Senior Project Manager
EADS Secure Networks Oy
2006-04 - 2007-06
Profit/loss responsible for a professional mobile network (TETRA) delivery to Saudi- ARAMCO, project delivery team consisted over 150 people from 8 different nationalities and from 3 subcontractors.
Useita
Nokia Networks
1993-01 - 2006-03
Senior Project Manager
At TETRA business I was initially responsible for customer acceptances for country (UK) wide TETRA network delivery, couple of years at business development for China/Asia, and project manager for about 10 TETRA network deliveries (installation, commissioning, integration) in China.
R&D Engineer, Section Manager, Department Manager
Fixed Switching
1993-01 - 2000-04
I started my career in R&D, as an engineer, section manager and R&D department manager in Germany. Simultaneously I was for three years also project manager for Nokia Networks' Fixed networks' millennium project.
Koulutus
B.Sc.
Kajaani University of Applied Sciences
2022-10 - 1992-01