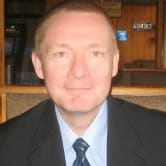 Saattaa olla saatavilla
(Päivitetty 2022-08-01)
Kokenut IT hankkeiden kehittäjä
Äidinkieli Finnish, English, Keskitasoinen Svenska, Aloittelija German
7 vuotta Microsoft Azure, AWS, Google Cloud
15 vuotta projektinhallinnasta
Yrityspalvelujen kehittäminen
Taidot
(53)
CONTINUOUS INTEGRATION/DELIVERY
Yhteenveto
Terve, tarjolla iloinen ja innovatiivinen insinööri veikko ohjelmistojen ja pilven projekteihin.Nimeni on Risto Anton Päärni, olen tuotantotalouden DI Espoosta. Työskentelen yrittäjänä Lifetime Oy:ssä ja olen ensimmäiseltä koulutukseltani softainsinööri jota olen parhaillaan korottamassa (älykäs teollisuus ko, YAMK) Metropoliassa. YAMK tutkintoni syvä ajatus on yhdistää kestävä kehitys ESG ja pilvipalvelut. Tämä teema tulee olemaan keskiössä myös kaikissa pörssiyhtiöissä, joten voin tuoda lisää osaamista näille nopeasti kehittyville alueille.
My name is Risto Anton Päärni, M.Sc./B.Sc. PM, cloud engineer and developer.
"as a Senior engineer, my soft skills enable me to fit in at a workplace including my friendly and patient personality, result-driven teamwork attitude, flexibility on remote or office and other working conditions issues like working hours, high-level of passion about customer satisfaction, kaizen on software skills and on ensuring secure solutions as a motivator. Risto has ethically strong thinking and fairly decent, international manners." RistoAnton July 2022.

As a professional, I offer three hats to your team, namely agile Scrum Project Manager, Cloud Solutions
Architect, and thirdly Cloud Developer (C++/C#, JS, Python, GitHub, Docker developer environments, GitHub Actions, CI, CD).

As CEO of Lifetime Group my backlog of duties include agile coaching, business development,
innovations and brand management, operations of the company, sales, HR, marketing, management
accounting.

Risto Anton has public cloud experience for more than 10+ years. He is an
experienced solutions architect with deep knowledge of customer business
cases on apps services on AWS, Microsoft Azure, Google Cloud Engine, and
with technologies like Kubernetes (k8s) fleet and app services.

Risto Anton has expertise in data architecture design, cloud native based
services design and business model based service modeling, APIs,
multi-cloud integration solutions and NoSQL / SQL databases. As security
practitioner he is the Administrator of Lifetime Group 5 domains solving and
managing their hands-on daily security and growth and CX issues.
Työkokemus
Agile Project Manager
Lifetime Consulting
2018-04 - Nykyhetki
Main responsibilities: * Project Planning, Project Costs, Project Resourcing.
* Project Portfolio * Sprint Audit with agile, kanban, GitHub Actions, JIRA * backlog owner * Budgeting, Reporting
Cloud Developer
Lifetime Studios
2018-04 - Nykyhetki
Main responsibilities: * Writing error-free code, Sprints work * design and implementation of client solutions * administering all testing and environments blue/green * testing DevSecOps tooling the client solution/ software Lifetime Studios Job Title: Cloud Solutions Architect Main responsibilities: * Writing error-free IaC code for Solutions * Security of AWS Services * Architectural design and implementation of client solutions * administration of all testing and environments blue/green * Strategy and Roadmap of DevSecOps, AMIs, Subscriptions tooling the client solution/ software.
* AWS Control Tower Management for Accounts * Account Manager for client accounts.
* Containerization * Team Leader for Projects.
CEO
AWS, Microsoft, Google
2018-04 - Nykyhetki
Main responsibilities: * solution sales * work in the client consulting assignments, * partner agreement cooperation with AWS, Microsoft, Google.
* Ollut vastaavassa roolissa Verolla palkka.fi hankkeessa jossa toimin suunnittelupäällikkönä vastaten * hankkeen kilpailutusvaiheen suorittamisesta. Tarjouspyynnöt ja tarjousvaiheen viestintä.
* * Sopimukseen ja palvelun järjestämiseen liittyvät hallinnolliset tehtävät,
Projektipäällikkö
Updated July
2010-01 - 2012-01
valmistelee ja johtaa palvelukokonaisuuden seurantaryhmien kokoukset yhteistyössä ohjausryhmän pj.n kanssa.
* * Toimiminen ensimmäisenä kontaktina tilaajan suuntaan sekä vastuiden jako tiimin kesken (sopimusasiat, tekniset asiat, kehittämisen asiat, kumppaniyhteistyö).
* * Palvelun organisointi ja kehittäminen ; roadmapin luominen * * Dokumentaation ajantasaisuudesta huolehtiminen yhteistyössä toimittajan ja ylläpitotiimin kanssa.
* * Yhteydenpito ja raportointi tilaajalle; johtoryhmä, ohjausryhmä, muut tilaajatahot? * * Monitoimittajaympäristön yhteistyön johtaminen ja koordinointi, palavereiden veto projektin osalta.
* - Erillistehtävien koordinointi ja vastuutus sekä resursointi ml. erillisprojektit.
* - Kehitystehtävien kehitysjonon (backlog) ylläpito ja priorisointi yhdessä tilaajan kanssa.
* - Poikkeamien raportointi, tarvittaessa reklamointi, sopimusten tarkastelu, aikataulukysymykset, jne.projektin aikana ilmenevät nopeatkin tilanteet esim.
sovellusarkkitehtuurista, palveluarkkitehtuurista, yksittäisistä komponeista johtuvat vikatilanteet sekä niistä toipuminen ja tai uudelleenmäärittelyn veto.
Koulutus
Master of Industrial Management
Bachelor of Software Engineering
Metropolia
2022-07 - 1991-01
Smart Factory
Metropolia
2022-01 - 2023-09
Sertifikaatit
* Level C Certified Project Management Professional
Microsoft Azure Developer 7 ● Compute: Azure IaaS with Virtual Machines
languages // using Microsoft Visual Studio 2022 64-bit // ● Coding .NET
Test automation Snyk Developer Security GitHub Copilot 3
Technical architecture or solution architecture design 10 2022
Visual Studio 2022 Community Visual Code 2022
Competence Area Experience Last Used in Project / Program
ORM architecture Create detailed designs for a solution
Agile organization / SAFe / kokonaisketterä.fi 10 2022
Microsoft BizSpark 2015-2017. Building with Xamarin
AWS Architect Associate 2022. AWS Practitioner 2020
Business development / innovation management 15 2022
Ict security, continuous delivery Terraform 15 2022
Continuous Delivery Software development (years)
Continuous Delivery Software development
Foundation Certificate for Security, CISSP
with .NET MAUI developing native apps that run on
.NET 6 Multi-platform App development UI with a 7
Foundation Certificate for Security, CISSP
AWS 7 ● Compute: WordPress IaaS Bitnami with
Agile cicd for github actions -> Azure 7 2022
Lifetime Group Certified Partners Consortium
Databases DynamoDB, Aurora, MariaDb 15 2022
Database design 7 Design a testing strategy
Running on Azure App Service, provisioning
IT Operations management Prometheus 7
Design thinking and Service Design 5
Cloud CI/CD Container fleet Docker Desktop
Azure App Services, provisioning pre-built
Certified Project Management Professional
apps with C# 10 and XAML. ● Ubuntu WSL
Security testing Cybersecurity 5
Linux/Windows Docker managing machines.
Virtual Machines Debian Linux managing
Process development (eg. Lean) 10 2022
API Design / gateway management 7
Storage, Messaging, Data, Networking
pre-built SaaS images and websites
Communication and teamwork 15 2022
Containers Docker / k8s Registry
Serverless with Azure Functions
Project Management Professional
Leadership & Management 15 2022
Configuration management 7
with Visual Studio Code 1.69.0
Production Kubernetes Services
Container Docker images on k8s
GitHub and Microsoft DevOps
CISSP Certified Information
app architecture / API app
Certified Project Manager
Docker Developer Environments