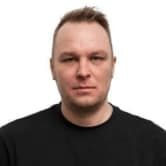 Käytettävissä mahdollisimman pian.
(Päivitetty 2022-10-05)
Fullstack Developer/Solution Architect
Äidinkieli Finnish, English, Aloittelija Svenska
+20 vuotta kokemusta ohjelmistokehityksestä
Teknologioiden hyödyntäminen ohjelmistokehityksessä ja arkkitehtuurissa
Pilviympäristön ja integraatioiden hallitseminen
Yhteenveto
I am an experienced software development professional with deep
knowledge about different aspects of programming technologies
and software development in general. I have gained experience in
various projects in a role of software architect, technical specialist,
and senior developer. I am a fast absorber i.e. I have very good
skills in learning new technologies and programming languages.
In my professional career I have worked with multiple different
technologies and platforms, and I am also experienced in different
protocol encodings.
For the past 3 years I have worked extensively on cloud platforms
and architecture, especially with AWS, where I have built software
and integrations around serverless environments.

A natural team leader. I love to learn new things and pass the
knowledge and good working practices forward.


Top Competences

I have been a professional software developer since January 2000.
I have used many programming languages over the years and will
learn more when necessary. The most recent languages I have used
are Python, TypeScript, and Dart.

Other areas of expertise:

Technical Lead
AWS Serverless Solution Architect
IaC / DevOps / SRE Scrum Master
Integrations Project Manager
Työkokemus
Technical Lead & Co-Founder
Amabit Oy
2021-01 - Nykyhetki
I work as a technical lead in Amabit Oy.
Lead Architect
eSend Finland Oy
2019-01 - 2021-01
I worked as a lead architect, team lead and scrum master in the project that developed an ecosystem for dynamic last-mile solution from sender to recipient using the most suitable carrier.
Senior Architect
Tieto Finland Oy
2011-01 - 2019-01
I worked as an architect, senior developer, and scrum master in various customer projects in different platforms and environments (embedded, mobile, desktop, and network).
Senior Developer
Tieto Finland Oy
2003-01 - 2011-01
I worked as a senior developer in various customer projects in different environments. My role was to design and implement software solutions for customer's needs.
Software Developer
Tellabs Oy
2001-01 - 2003-01
I worked as a software developer in a team creating a telecommunications system.
Software Developer
Exéns Development Oy
2001-01 - 2003-01
I worked as a software developer in embedded systems. The team developed a cell analyzer for paper manufacturing industry.
Koulutus
Flutter & Dart - The Complete Guide
Bachelor of Science
Kajaani Polytechnic
1996-01 - 2000-01