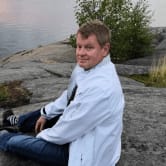 Available ASAP
(Updated 2022-07-13)
Experienced IT and service professional
Native Finnish, English, Fluent Svenska, Intermediate German
Strong international experience
ICT Management
Service business and process management
Summary
Value-based leader in B2B services and solutions as well as ICT with a global track record.
Customer-oriented, pragmatic and results-driven team player who masters operational and financial
management - supported by experience in developing processes & quality and managing ICT.
Professional Experience
Consultant
Raickon Oy
2020-09 - Present
Several short and long term customer assignments in e.g. ICT, field service management and real estate,
Service business project
SSH Communications Security
2020-10 - 2021-06
I was driving the ramp-up of a new services business to enable delivery of cybersecurity solutions to large customers in Americas, APAC and EMEA regions.
Chief Technology Officer
Aino Health Management
2018-10 - 2020-07
Leading a team of 5 persons I was in charge of agile R&D and Product management of HealthManager SaaS, which is used by some 40 organizations to digitalize HR processes for absence management and working ability management of over 50.000 employees.
Chief Operations Officer
Aino Health Management
2016-09 - 2018-09
I managed the international expansion of operations with focus in Sweden and Germany: covering sales, service localization, recruitments, partnering, training and management of first customer projects.
Chief Information Officer (Finland)
Teleste Corporation
2014-12 - 2016-04
I had the responsibility for the entire ICT application portfolio and infrastructure of the company with a team of 15 persons - covering development, maintenance and end-user support. I was also in charge of the digitalization strategy, including the first eCommerce initiatives of Teleste Group.
Head of Service Operations
Aino Health Management
2012-08 - 2014-11
I led a team delivering health management solutions and services to B2B customers - implementation, training and support of HealthManager SaaS software and related processes as well as wellness services.
Head of Transformation Program (Finland)
Nokia Siemens Networks
2011-10 - 2012-06
Head of Business Development Asia North (Thailand)
Nokia Siemens Networks
2010-08 - 2011-08
Aug 2010 to Aug 2011 I was driving new businesses in the region, including new customer acquisition and new solutions.
Head of Global Delivery in Managed Services (Finland)
Nokia Siemens Networks
2008-05 - 2010-07
I managed Opearation Centers (India, Lisbon) with 1500 people. We offshored critical NOC operations for customers in Australia, France, Germany, Spain, Sweden and the USA bringing cost savings of up to 40%.
Delivery Process Owner (Finland)
Nokia Siemens Networks
2007-04 - 2008-04
I managed the end-to-end development of the common Delivery Process in the Nokia-Siemens JV.
Head of Services in Latin America (Brazil)
Nokia Networks
2006-06 - 2007-03
During this temporary assignment, my organization had 500 employees and annual revenue of 300 MEUR. We successfully swapped out a competitor in Brazil and ramped up a new rollout project in the challenging environment of Venezuela.
Director, Quality and Processes in Global Services (Finland)
Nokia Networks
2005-01 - 2006-05
Nokia Networks merged all service businesses under one Unit, where I focused on performance improvement and customer satisfaction. I also developed a common operational model for the Business Unit.
General Manager, Operations Solutions
Nokia Networks
2001-07 - 2004-12
I was leading a new global solution business from Day 1: managed services and consulting and later also related software and solutions. I grew the organization from 20 to 350 people with sales of 80 MEUR.
Head of 3G Customer Services APAC
Nokia Networks
2000-05 - 2001-06
As a key member of a technology "hit team", I managed Services readiness for 3G rollouts, training and after sales. I was also heavily contributing to successful 3G sales cases in Japan, Taiwan and Singapore.
Head of Network Services APAC
Nokia Networks
1998-01 - 2000-04
I was responsible for technical support, which evolved to Network Services - covering also network planning and training. My team had over 200 employees and sales of over 40 MEUR.
Head of Process Development & Quality in Services (Finland)
Nokia Telecommunications
1995-03 - 1997-12
I was responsible for quality, processes and ICT applications within Services. I drove the development of Care process for the growing Technical Support business. I ran also several internal training courses.
Consultant
Sedecon Oy
1992-08 - 1995-02
I helped my clients in marketing, quality systems, customer satisfaction and process reengineering - covering many service businesses, e.g. industrial sales, banking, telco operator, repair and maintenance.
Quality Engineer
Hantec Oy
1991-01 - 1992-07
Hantec was a leading Finnish contracting company in electrical and HPAC contracting. I did my master's thesis during this time.
Coordinator
Aalto University
1989-12 - 1991-01
I was working in the Center for Continuing Education coordinating a major training program focusing on employee training service for 2 key accounts Nokia and Telecom Finland.
Academic Background
M. Sc in Industrial Management
Aalto University
1986-08 - 1992-01
M. Sc
Helsinki University of Technology
2022-07 - 1992-01