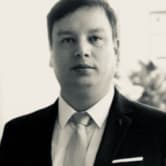 Käytettävissä mahdollisimman pian.
(Päivitetty 2022-01-12)
Automation Engineer
Äidinkieli Spanish, Sujuva English, Keskitasoinen Portuguese
+5 años Wonderware
+10 años BBDD
+10 años .Net
Työkokemus
Control Systems Engineer
Outsourcing Automation Systems SL
2016-11 - Nykyhetki
My main duty is the analysis of software and taking of requirements with the client to develop programming of control systems with Schneider Wonderware, Visual Studio .Net and SQL Server databases, new applications and improvements of existing SCADA functions. in the ORION project for the supervision and control of air navigation systems in all airports in Spain
Systems analyst and programmer
PropertyWeb
2016-03 - 2016-10
Web programing and applications development with ASP.Net C#.Net Vb.Net MSSQL srv, PHP MySQL
Control Systems Engineer
CORPOELEC -Hydroelectric Power Plant
2012-01 - 2016-02
My main duties were to testing, fault finding and fault corrections on ALSPA p320 systems and different type of systems related to instrumentation and PLCs.
Training local engineers. Also carried out software changes on site as required.
Develop maintenance management tools, management of industrial expenses, control of peripherals, budget management and executive reports with analysis of information.
Control Systems Engineer
Learn with external consulters to review and to build engineering project of the hydroelectric control system developments. Learn with ALSTOM Power Hydro, in Brazil, to configure and programming an ALSPA p320 environment.
Develop management tools of maintenance and management of industrial expenses with Visual Studio .Net and Microsoft SQL.
Freelance
The main objective was the technical training of students in systems, teaching subjects such as control systems programming and databases, thesis advisor, being a newly founded university institute managed to start the project for the academic control system. Analysis, design, programming and implementation of information systems. Final user training. Help Desktop in Windows systems.
Network installation.
Koulutus
Universidad Carlos III Madrid
Universidad Carlos III Madrid
2022-01 - 2007-01
Master's in electrical
Universidad Católica Andrés Bello
2001-01 - 2003-01
Bachelor's Degree
Instituto Universitario Politécnico Santiago Mariño
1995-01 - 2000-01