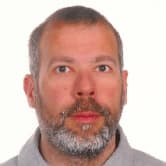 Disponible de inmediato
(Actualizado 2022-07-11.)
Software Architect and Developer in Java
Nativo Catalan; Valencian, Spanish, Intermedio French, English
10 years experience in Java and Spring
5 years experience in Microservices and Integration
10 years experience in Backend development
Experiencia profesional
Freelance
omarti
2014-01 - Presente
I decided to move to this kind of collaboration to enable myself to enter into different domains and the technologies I preferred. As a freelance I've worked in several projects, related to e-commerce, fin-tech, B2B tools and lots of integration tools.

The following ones were long time ago, So, just a short description of the employer, epoch and main technologies. There are more, but I don't think it really worth the effort to describe them all in here.
Consultant in Software Engineering
UOC (Univeristat Oberta de Catalunya)
2005-02 - Presente
in a distance university. Try to teach to new computing engineers the object-oriented rules and patterns.
From 02/2005 (still on) Netquest, Barcelona In the market research sector, Netquest needed new software to resolve some of their main issues: - Recruit people to answer surveys, and profile them so that surveys can be sent to accomplish market research requirements (gender, social status, ) - Create a remuneration system so that people gets points every time they answer a survey - Provide an ecommerce to exchange points to presents The project was planned to last a full year, and once we released the first version, we keep the project for six years. The project moved from managing thousands of entries to millions, which made the project very interesting from a technical point of view.
Until now, the project keeps alive and maintained by others. I decided to end up my collaboration with Netquest because I wanted to move to new sectors.
Technologies: Java, J2EE 1.5, MySQL, AWS, JSP, JQuery, HTML5, Apache 2, JBoss 4, JBoss 5, Eclipse, Perforce, Subversion
Formación académica
Master in Business Innovation
Universitat Politècnica de Catalunya
2022-03 - 2013-01
Bachelor degree
Politècnica de Catalunya
2022-03 - 2010-01
DESS
Université de Savoie
2022-03 - 2003-01
15.7/20. First of promotion. Master in new information technologies.
Université de Savoie, France
2022-03 - 2002-01
Certificaciones
Sun Certified Programmer for the Java 2 Platform, Standard Edition 5.0
Contacta con el consultor