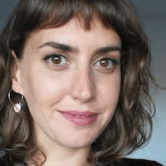 Might be available
(Actualizado 2021-07-28.)
React developer junior
Rosario, Provincia de Santa Fe, Argentina
Nativo Spanish, Fluido English
Facilidad en el aprendizaje
Proactiva
Trabajo en equipo
Habilidades
(20)
OPTIMIZACIÓN DEL MOTOR DE BÚSQUEDA
Resumen
React.js| HTML| CSS| SASS| Bootstrap|Javascript| Control de versiones GitHub |Firebase|API Rest.
Experiencia profesional
Community manager
Fundación Mexfam
2020-01 - 2020-01
Web development.
Content specialist
Fundación Mexfam
Content manager
Mexico City, Mexico.
Design of internal and external digital communication strategy. Preparation of institutional reports.
Monitoring of digital strategy (SEO).
Content manager
Dirección de Juventudes
Municipalidad de Rosario
2014-01 - 2018-01
Rosario, Argentina.
Group coordination. Population diagnoses. Trainings.
Project and budget management. Work with young people in situations of social vulnerability from a perspective of strengthening human rights.
Program Coordinator
Artislaborum Publicidad
2018-01 - 2018-01
Mexico City, Mexico.
Development and management of digital content. Elaboration of editorial calendar. Digital
strategy monitoring (SEO). Tasks coordination.
Program Coordinator
Community Manager
Municipalidad de Rosario
2013-01 - 2013-01
Rosario, Argentina.
Multi-channel assistance(telephone, email, social networks). E-mail marketing.
Formación académica
React Developer
It Academy Barcelona
2020-11 - 2021-07
Licenciada en Comunicación Social
Universidad Nacional de Rosario
2007-03 - 2014-11
Contacta con el consultor