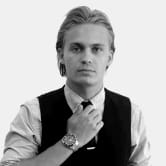 Disponible de inmediato
(Actualizado 2022-07-12.)
IT Consultant
Nativo Danish, English, Intermedio Spanish
4 years of experience managing IT projects
6 years of experience within UX in app and web development
6 years of experience building software solutions
Resumen
Profile within project management and digital development.
Experiencia profesional
Founder & Tech Consultant
Frifeldt Media
2019-01 - Presente
Frifeldt Media is a data-driven software development agency with some of the most dedicated specialists. By combining technology, processes and the talented people, we help our clients as well as foreign companies to develop software solutions, online presence and ultimately gain more revenue.
Primary responsibility was marketing/sales activities, project management and digital development.
Co-Founder & CMO
Black Brush
2017-09 - 2019-06
Black Brush was a webshop that supplies organic toothbrushes and toothpaste into a comprehensive subscription solution to the consumer. The company was founded by my brother and i in 2017 and sold in the beginning of 2019 with af profit.
Primary responsibility was in charge of marketing activities and development of the webshop and subscription solution.
Venue Manager
REKOM Group A/S
2018-09 - 2018-12
Hornsleth Bar Aarhus is a cocktailbar and nightclub located in the heart of Aarhus. Kristian von Hornsleth has designed and decorated the bar, which results in a big controversial adventure when you enter the bar.
Venue Manager
REKOM Group A/S
2017-10 - 2018-09
Founder
Mega Marketing
2016-01 - 2016-12
At Mega Marketing we love marketing with positive results. We are specialized in creating whole solutions where there is consistency in the communication. We love what we do and guarantee that we can help your business more growth and a higher level of awareness for the customers.
Visit www.megamarketing.dk
Formación académica
Bachelor's Degree
Business Academy Aarhus
2015-07 - 2018-04
Contacta con el consultor