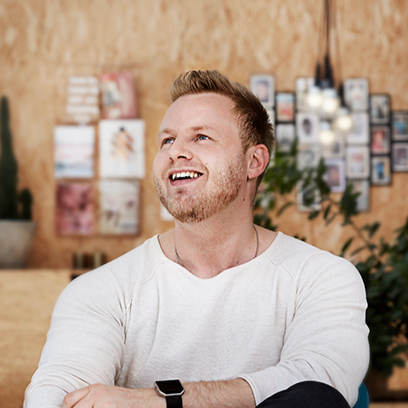 Available ASAP
(Updated 2021-01-31)
Freelance Udvikler
Native Danish, Fluent English, Beginner German
Erfaring med ledelse
Tech Lead
+14 års erfaring
Kvalifikationer
(29)
SEARCH ENGINE OPTIMIZATION
Resumé
Im an award winning developer who takes pride in creating beautiful,
creative, innovative and scalable digital solutions
List over most relevant skills and knowledge:
Leadership:
- Team lead / Leadership / Team Management / Project
management
- Scrum / Kanban
Development:
- Frontend Development
- HTML / (S)CSS
- Javascript / Typescript/Flow / Vue / Nuxt / React / NodeJS / Express/ Angular (1) / Mobile Development (Ionic, Vue Native, PWA,
Responsive)
- API / GraphQL / Apollo / REST MongoDB (Mongoose) / NoSQL / Firestore / Firebase
- SEO (Technical SEO, also have a good knowledge of onsite SEO
as well)
- Micro Interactions & Animations
- GIT / Subversion / TFS
- Photoshop / Illustrator / Sketch / Proto.io, Figma
Headless CMS:
- Firebase / Firestore
- Contentful
- GraphCMS
CMS PLATFORMS:
- Umbraco
- Sitecore (Primarily Frontend Development)
- Dynamicweb
- Wordpress/ Woocommerce
- Shopify
- Episerver (Primarily Frontend Development)
Professionel erfaring
Freelance Developer
nickychristensen.dk
2020-11 - Nuværende
Greater Aarhus Area
Frontend Tech Lead
Enversion A/S
2020-02 - 2020-11
Aarhus C, Middle Jutland, Denmark

Responsible for frontend development, architecture & team.
Mainly working with Vue/Typescript/Nuxt/SCSS etc..
Head Of Development & Co Founder
Århus Area, Denmark

Responsible for building and leading the development team.
Defining development & SCRUM processes.
Also doing Fullstack development mainly using NodeJS/MongoDB/ReactJS


Unfortunately, the company ended up closing
Senior Frontend Developer
Århus Area, Denmark

Primary focus on Frontend Development with VueJS as the primary JS
framework.
Working with clients such as Grundfos & Vestas.
Frontend Developer
AKQA Danmark
2010-04 - 2017-05
DIS/PLAY is also known as AKQA today.
Mainly working with frontend development on larger projects for clients.
Frontend Developer
Bleau A/S
2008-12 - 2010-04
The department formerly known as Professional Services in Dynamicweb
Software A/S has undergone a management buy-out - and is now called Bleau
A/S.
Web Developer
Dynamicweb
2007-11 - 2008-12
Webdesigner & Developer
Inet Design
2006-05 - 2007-11
Akademisk baggrund
Aarhus Tekniske Skole
Aarhus Tekniske Skole
2002-01 - 2006-01
Certificeringer
Umbraco Certified Professionel (Level 1 & Level 2)
Umbraco Certified Deveoper
Dynamicweb CMS Certified System
Synkron VIA Certified Professionel
Sitecore Website .NET Developer
Vue2 JS - The Complete Guide @Udemy
Modern React with Redux @ Udemy
Learn and Understand AngularJS @ Udemy Online Courses
JavaScript: Understanding the Weird Parts @ Udemy
Learn ExpressJS - Build MEAN Apps @ Stackskills
Ionic Framework - From Web to Mobile @ Udemy
C# .NET 3.5 hos Teknologisk Institut
Umbraco Level 1 Masterclass
Umbraco Level 2 Masterclass
Apsis Email Marketing Customized Training
Essential Leadership @ Udemy
https://medium.com/@nickychristensen
https://www.contentful.com/blog/ ~~~~~ /build-website-nuxt
Apsis Email Marketing Customized