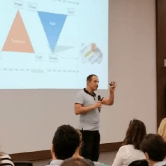 Könnte verfügbar sein
(Aktualisiert 2021-04-15)
Senior Project Manager
Einheimische English, Turkish, Fließend Russian, Mittelstufe German
Agile Coach
Project Manager
Scrum Master
Zusammenfassung
Experienced in information technologies, banking, finance and retailing sectors for 24+ years.
High level competencies of software development from end to end, as being computer engineer
and project manager.
Highly experienced on Enterprise Agile transformation of both IT units and business units;
Scaled Agile implementations, Agile Coaching and Team Level Coaching. Being an Agile
Coach for more than 6+ years, summary of my work:

• Leading the organizational transformation within sponsor team.
• Supporting top management and middle level managers to cultivate agile culture.
• Coaching for Agile teams.
• Agile & Scrum Instructor, Agile Leadership Instructor.
• Mentoring for Agile Product & Project Development.
• Preparing and participating agile workshops, Soft-skill trainings.
• Business focused individual coaching.
CURRENT WORK:
Leading and supporting Business and IT Agile transformation to establish Scaled Agile
structures in different accounts as consultant.
Driving projects with Scrum and Kanban Methodologies.
Berufserfahrung
Agile Coach, Scrum Master, Agile&Scrum Instructor for 3
years in Softtech Inc
2021-04 - Jetzt
to help Agile
transformation. Softtech is the IT company of Isbank and one of the leading IT companies in banking and finance.
Akademischer Hintergrund
Academy, Istanbul
Academy, Istanbul
2019-06 - 2019-09
MBA
Istanbul Business School
2021-04 - 2013-09
Ankara University
Ankara University
1999-02 - 1999-06
B.Sc.
Hacettepe University
1993-01 - 1997-01
Zertifikate
Project Management Professional
PSM-II, Professional Scrum Master II
PSM-I, Professional Scrum Master I
PSPO-I, Professional Scrum Product Owner
Leadership by Coaching (ICF)