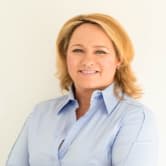 Available ASAP
(Updated 2023-08-29)
Senior SAP S/4HANA SD/OTC Consultant
Native Finnish, English, German, Fluent Svenska, Beginner French, Spanish
International implementation and rollout projects
20+ years SAP experience
Senior SAP S/4HANA SD/OTC Consultant & Interim Manager
Skills
(22)
BUSINESS PROCESS IMPROVEMENT
SAP Build Process Automation
Summary
I am a certified freelance Senior SAP S/4HANA SD/OTC Consultant and Interim Manager with over 20 years of experience in implementing and supporting SAP Best Practice solutions in R/3, ECC and S/4HANA. I am a strong allrounder in the Sales and Logistics area with broad business, functional and technical knowledge and experience. I have been involved in multiple international SAP projects and in six S/4HANA projects so far.
Skills and experience:

✅ Excellent business, functional and technical knowledge.
✅ Strong communication, interpersonal and problem-solving skills.
✅ Experience in delivering solutions from business requirements through to build, test and go-live.
✅ Strong business process knowledge of OTC (Order-to-Cash), SD (Sales and Distribution) and SAP End-to-End business processes.
✅ Extensive experience with OTC processes and functionalities (Quotations, Orders, Contracts, Returns, Deliveries, Billing, Rebates, Pricing, Settlement Management, Intercompany, Outputs, Interfaces, Workflow, Master Data, Data Migration).
✅ Integration knowledge of SD with MM, LE, TM, EWM, FI, CO, C4C, CRM and BI.
✅ Good technical understanding of ABAP, EDI, IDocs and PI.
✅ Knowledge and experience of SAP Activate, S/4HANA Sales, SAP Fiori, SAP Signavio and SAP BTP.
✅ Experience in team leading, offshore delivery model and working in virtual teams.
✅ Able to interact with stakeholders at all levels and adapt to different ways of working in different cultures.
✅ Extensive international experience and a fluency in several foreign languages: native Finnish; fluent English, German and Swedish; basic French and Spanish.

Projects and activities I can help with:

➡️ Support move to S/4HANA
➡️ Bridge the gap between business and IT/external service providers
➡️ Business process improvement/optimization
➡️ SAP carveout/integration
➡️ Lead international multicultural teams

As a freelance consultant I am always interested in new projects. I enjoy taking on new challenges, resolving complex problems and delivering value to customers.
Professional Experience
Interim Manager OTC
SCHENCK PROCESS EUROPE GmbH
2021-10 - 2023-02
Location: Remote
Industry: Engineering
Project: S/4HANA Greenfield EMEA Rollout
Role: Interim Manager OTC
Provided advice and guidance on SAP standard processes, functionality and S/4HANA project delivery
Managed a team of SMEs, functional consultants and key users
Acted as a sparring partner to CFO, BPO and PE
Lead OTC and Intercompany Consultant
BMI GROUP
2021-06 - 2021-08
Location: Remote
Industry: Building Materials
Project: 2One S/4HANA Template Rollout Explore Phase DACH
Role: Lead OTC and Intercompany Consultant
Conducted fit-to-standard workshops
Gathered business requirements and identified gaps
Identified and defined configuration values
Lead OTC Consultant EMEA
EPREDIA INC. (PHC HOLDINGS CORPORATION)
2020-11 - 2021-05
Location: Remote
Industry: Healthcare Medical Equipment and Devices
Project: EDGE S/4HANA Template Rollout Wave 2 EMEA
Role: Lead OTC Consultant EMEA
Performed fit-gap analysis, gathered requirements, identified solutions, designed, built and performed testing
Managed SIT and UAT
Completed cutover activities
Provided post go-live support during Hypercare
S/4HANA Senior Consultant OTC / Senior Data Analyst
PEPSICO INC
2020-05 - 2020-08
Location: Remote
Industry: Fast-Moving Consumer Goods (FMCG)
Project: ESSA Global S/4HANA Template Rollout Wave 1
Role: S/4HANA Senior Consultant OTC / Senior Data Analyst
Supported business with data cleansing, data conversion and data migration activities
Identified areas for data quality improvement
Participated in sprints and workshops
S/4HANA Sales Managing Consultant OTC
BRENNTAG AG
2019-11 - 2020-04
Location: Essen, Germany, and remote
Industry: Chemical Wholesale
Project: SHAPE S/4HANA Greenfield Transformation Template
Gathered requirements and delivered solutions for Rebate Processing in Condition Contract Management (CCM), Advanced Returns Management (ARM), Intercompany Sales and other topics
Analysed and designed an end-to-end solution for Premium Additional Services in SD, TM and EWM
Moderated and facilitated sprints and workshops
Acted as a leading Single Point of Contact (SPOC) for various integration topics
Senior SD/MM OTC Consultant
HOME24 (ROCKET INTERNET)
2018-10 - 2019-04
Location: Berlin, Germany, and remote
Industry: Internet Retail
Analysed and documented Business Partner and Sales Order interfaces between Webshop, S/4HANA, C4C and EWM
Implemented Change Requests in S/4HANA Sales, e.g. a new plant
Designed and implemented business process and technical documentation standards
Provided coaching and support to SAP Competency Centre members
Senior SD OTC/PTP Consultant
HENKEL AG Co. KGaA
2017-07 - 2018-02
Location: Duesseldorf, Germany
Industry: Chemicals
Project: CHEERS Darex APAC Integration
Participated in solution design workshops in the APAC region
Implemented Horizon Template solutions in Intercompany Processing
Executed end-to-end testing for Intercompany Processes
Provided go-live support in the Philippines and Thailand
Senior SD/LE Consultant
GOBAIN WEBER AB
2017-03 - 2017-04
Location: Stockholm, Sweden
Industry: Building Materials
Project: AGILE
Provided post go-live support during the Hypercare period
Resolved OTC related issues
Acted as an expert advising users about SAP standard processes and functionality
Reported to the Senior Management and CIO
Senior Process Manager OTC
BOEHRINGER INGELHEIM PHARMA GmbH Co. KG
2016-07 - 2016-12
Location: Ingelheim, Germany
Industry: Pharmaceuticals
Safeguarded and implemented OTC process standards according to GxP guidelines
Designed, built, developed and improved processes and concepts within OTC
Drove organizational and process transformation and implementation of a global SAP template
Supported running business by updating and developing the existing GBS Process Management Standards
Provided business consultancy and coaching to other team members as a leader
Senior SD OTC Consultant
HENKEL AG Co. KGaA
2014-08 - 2016-04
Location: Duesseldorf, Germany
Industry: Chemicals
Project: ONE!GSC Horizon Phase 2
Participated in solution design workshops
Implemented Horizon Template solutions in OTC
Designed and implemented SAP-Canon Océ COSMOS interface for Invoice Processing
Provided testing, go-live and Hypercare support
SD/MM Team Lead/Functional Consultant
HAVI LOGISTICS GmbH
2013-08 - 2014-05
Location: Duisburg, Germany
Industry: Food Service Logistics
Project: OPTIMISe
Lead a team of functional and technical consultants
Defined deliverables, assigned them to team members and oversaw solution delivery
Conducted workshops to gather business, legal and fiscal requirements using Scrum Methodology
Managed cutover planning for the MM roll-out
Coordinated data migration, go-live preparation and support for the MM roll-out
Designed and implemented new Billing Document layout for European countries
B2B/B2C e-Commerce SAP Integration Consultant
COMPAGNIE FINANCIÈRE RICHEMONT SA
2012-06 - 2013-06
Location: Geneva, Switzerland
Industry: Luxury Goods and Jewellery
Project: European Roll-out of e-Commerce Solution
Role: B2B/B2C e-Commerce SAP Integration Consultant
Analyzed, designed and documented solutions for Phone and Web Sales OTC processes
Implemented solutions in Order Processing, Delivery Processing, Invoicing, Intercompany STO Processing and Plants Abroad
Implemented ECC integration with Contact Centre Front End (CCFE), SAP CRM, BOBJ address validation, FraudGuard Anti-Fraud and Payment Service Provider (PSP)
Executed end-to-end testing of OTC processes in CCFE and SAP
SD/CRM Consultant
LINDE GAS AG
2012-01 - 2012-05
Location: Munich, Germany
Industry: Chemicals
Project: Linde Template Implementation
Implemented solutions in Contract Processing, Billing Plan Processing and Down Payment Processing
Data migration activities, customizing and functional design for the Brazil roll-out
Implemented Change Requests in SAP ECC and SAP CRM
SD/CRM Consultant
ANZAG AG (ALLIANCE BOOTS GROUP)
2011-12 - 2012-01
Location: Frankfurt, Germany
Industry: Pharmaceutical Wholesale
Project: Skills in Healthcare
Designed and implemented Sales Order and Debit Note Processing in SAP CRM and SAP ERP for a new sales area
Customized Sales Document Types, Item Category Determination, Schedule Line Category Determination, Partner Determination, Billing Document Types, Pricing, Output Determination, Account Determination, Incompletion Procedure and Transaction Types in SAP ERP and in SAP CRM
Sales and SCM Application Owner
ONNINEN OY (KESKO)
2010-10 - 2011-06
Location: Vantaa, Finland
Industry: Building Materials and Technical Wholesale
Project: SAP ERP Programme
Ownership of the global Sales and SCM solution design and related documentation
Designed new functionalities in Sales Order Processing, Scheduling Agreements, Intercompany Processing, Delivery Processing, Shipping and Billing
Continuously improved topics to ensure ERP business benefits realisation and lower total cost of ownership
Controlled all changes related to Sales and SCM applications and services
SD OTC Consultant
ROYAL DUTCH SHELL plc
2008-12 - 2010-09
Location: London, UK
Industry: Energy (Oil and Gas)
Project: GSAP Downstream-One
Designed and delivered solutions for Portfolio Divestment projects in OTC
Analyzed and implemented solutions in Sales Order Processing
Completed functional specifications for RICEF objects in Intercompany Processing, Retail Order Processing and Intrastat Reporting
Trading Team Lead
HARLEY-DAVIDSON EUROPE Ltd
2008-04 - 2008-10
Location: Oxford, UK
Industry: Automotive
Project: Pioneer
Managed a team of 15 people during the Blueprint Phase to develop a SAP R/3 template in SD, MM, LE and VMS
Developed a team work plan, allocated resources and provided assistance to the team
Supported PMO with project management related activities
Lead SD Consultant
HEINZ UK Ltd (KRAFT HEINZ)
2007-12 - 2008-03
Location: Hayes, United Kingdom
Industry: Fast-Moving Consumer Goods (FMCG)
Project: Project Oak
Managed an international team of SMEs and consultants during a roll-out of Sales Order Processing functionality in Poland
Ensured a timely delivery of the functionality that met Polish legal requirements in Sales Order Processing, Pricing and Billing
Lead CRM Consultant
KPMG UK Ltd
2007-06 - 2007-11
Location: Watford, United Kingdom
Industry: Professional Services
Project: ERP Programme SAP CRM Blueprint
Gathered, analyzed and specified business requirements
Identified As-Is business processes, performed Gap Analysis and defined To-Be processes and solutions
Completed Blueprint for Engagement Management, Opportunity Management and Client Management
Lead SD Consultant
HEINZ UK Ltd (KRAFT HEINZ)
2007-03 - 2007-05
Location: Hayes, United Kingdom
Industry: Fast-Moving Consumer Goods (FMCG)
Project: Project Oak Upgrade
Managed upgrade testing of Sales Order Processing functionality
Provided knowledge transfer to SMEs and consultants in Poland and India
SD/CRM Consultant
XEROX UK Ltd
2006-08 - 2006-10
Location: Uxbridge, United Kingdom
Industry: Document Services and Computer Peripherals
Project: Average To Benchmark ESAP Project
Customized Sales Order Processing functionality in SAP CRM and SAP ECC
Managed integration of Sales Order Processing and configuration in SAP CRM and SAP ECC
Completed functional specification documentation and data design documentation
SD Consultant
VODAFONE plc
2006-07 - 2006-08
Location: Newbury, UK
Industry: Telecommunication
Project: EVO
Analyzed processes, systems, interfaces and technology in Sales Order Management and Retail in 15 operating concerns
Facilitated workshops in Spain and Greece
Provided solution recommendations in Sales Order Management
SD Consultant
BRITVIC plc
2004-07 - 2006-07
Location: Solihull, United Kingdom
Industry: Fast-Moving Consumer Goods (FMCG)
Project: Business Transformation Programme
Gathered and analysed business requirements in Sales Order Processing
Customized Sales Document Types, Copying Control, Pricing, Billing Document Types, Material Determination, Product Proposal, Listing/Exclusion, Output Determination and Intrastat Reporting
Managed design, development and testing of two complex bespoke developments Delivery Source Determination (Cost-To- Serve solution) and Auto Invoice Correction
Tested end-to-end solutions in OTC
Provided post go-live support and implemented further enhancements
Lead a team of six offshore consultants in Malaysia
SD Consultant
YELL GROUP plc
2002-02 - 2004-06
Location: Reading, UK
Industry: Publishing and Media
Project: SAP Implementation
Planned and coordinated end-user training database implementation
Performed integration testing of SD functionality in Customer Interaction Centre (CIC) and Telesales
Designed and implemented further enhancements in Sales Order Processing, Telesales and CIC
SD/MM Consultant
CARLSBERG GROUP
2001-05 - 2002-01
Location: Leeds, United Kingdom
Industry: Fast-Moving Consumer Goods (FMCG)
Project: SAP Implementation
Designed and implemented solutions in Sales Order Processing, Delivery Processing and Billing
Performed integration testing
Provided application support in SD, MM, LE and WM modules
SD/MM Consultant
CIC VIDEO
1999-06 - 1999-08
Location: London, UK
Industry: Entertainment
Project: SAP Roll-out
• Designed, documented and customized processes in SD and MM
• Provided post go-live support and implemented further enhancements
SD/MM Consultant
DYNACAST INTERNATIONAL
1999-03 - 1999-05
Location: Germany and Austria
Industry: Mechanical Engineering
Project: Template Roll-out
• Deployed Sales Order Processing functionality of SAP R/3 template
• Performed master data migration
• Developed and delivered end-user training
Academic Background
BBA Bachelor of Business Administration
AALTO UNIVERSITY SCHOOL OF BUSINESS
2023-09 - 2023-09
Certifications
Compose and Automate with SAP Build the No-Code Way
SAP Business Technology Platform in a Nutshell
Discovering SAP Business Technology Platform
Drive SAP S/4HANA Transformations with SAP Signavio Solutions
New Employee Business Partner Model in SAP S/4HANA
Discover SAP S/4HANA Movement
Guide Your SAP S/4HANA Project to Success
Building Tomorrow's ERP with SAP S/4HANA
SAP Fiori Overview: Design, Develop and Deploy
How to Deliver a Great User Experience with SAP S/4HANA
How to Build Bots with SAP Intelligent Robotic Process Automation
Migrating Your Business Data to SAP S/4HANA – New Implementation Scenario
Business Process Automation in SAP S/4HANA with SAP Intelligent RPA
Getting Started with SAP Model Company
Key Functional Topics in a System Conversion to SAP S/4HANA
Key Technical Topics in a System Conversion to SAP S/4HANA
Agile Project Delivery with Focused Build for SAP Solution Manager
SAP C/4HANA Business Processes: Lead-to-Cash
System Conversion to SAP S/4HANA