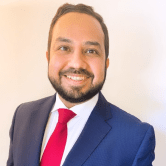 Might be available
(Updated 2021-06-09)
Consultor de negocios
Native English, Spanish, Beginner Catalan; Valencian
+10 años de experiencia en estrategia y operaciones
+10 años de experiencia en consultoría de negocios
+10 años de experiencia en organización y transformación digital
Summary
My name is Luis Jesús Cuauhtémoc Barreto Sotomayor and I am a knowledgeable and performance-driven professional with demonstrated success in managing business growth and collaborating in management consulting projects to achieve ideal results in the financial services, healthcare, telecommunications, oil and gas, tourism, industrial goods, and manufacturing industries.
Clients recognize me for my talent in administering ongoing projects. My capacity for submitting project deliverables, preparing status reports, and establishing effective project communication plans, as well as the proper execution of said plans is truly remarkable. My aptitude for collaborating with cross-functional teams to ensure that all project requirements, deadlines, and schedules are on track sets me apart from the rest.
I am a dedicated professional; recognized for leading, training, and mentoring with multi-disciplinary teams to manage operations. Throughout my career, I am proven as an articulate communicator with credible history of cultivating and maintaining positive collaborations and partnerships with clients, key stakeholders, and senior management to realize organizational goals.
I hold an MBA from IE Business School (Spain) and a BSc. in Electronics Engineering (Honours) from Universidad Simón Bolívar (Venezuela).
Please feel free to review my LinkedIn profile at https://www.linkedin.com/in/luisjbarreto or contact me at luis.barreto@merakibm.com with any thoughts, comments, or questions about my work.
Proven expertise in:
• Project management
• Digital transformation
• Organizational design
• Business transformation
• Strategic analysis & planning
• Cross-functional collaboration
• Operational excellence
• Process & performance improvement
• Business management
• Change management
Professional Experience
Co-founder and Director
MerakiBM
2020-08 - Present
Responsible for the execution of engagements focused on the areas of strategy, operations, organization, and digital transformation.
Senior Manager at everis
Managed P&L for on-going projects and identified new business opportunities to ensure business growth. Head of the financial services practice in Andorra. Implemented best practices in the delivery of management
consulting engagements focused on digital transformation, organizational design, and performance improvement in the financial services industry.
Strategy Manager
Indra Business Consulting
2014-05 - 2017-08
Managed P&L and led management consulting teams as a member of the technology, media, and telecom
practice, executing engagements focused on business transformation and performance improvement.
Associate
Booz Allen Hamilton
2012-01 - 2014-04
Developed and implemented the delivery of management consulting engagements, working with top
management to solve key issues focusing mainly on corporate strategy and performance improvement.
Senior Research & Development Engineer
Developed, supervised, and implemented engineering projects for the Systems Integration department in the R&D division of the company.
Academic Background
MBA
IE Business School
2010-10 - 2011-12
BSc in Electronics Engineering (Honours)
Universidad Simon Bolivar
1998-09 - 2004-01